ABOUT PAPA WEAVER'S PORK
Tom Weaver, a seventh-generation farmer, is at the helm of Papa Weaver's Pork, which has been in the family since the farm was purchased from President James Madison. Papa Weaver's pork offers numerous gourmet pork products, including chops, roasts, spare ribs, and sausages, including their secret country style blend sausage seasoning.
Papa Weaver's Pork produces top-of-the-line pork products, with a herd that has earned kudos with a Pork Quality Assurance Level III certification. As a mark of distinction, Papa Weaver's Pork markets gourmet pork products that do not contain additives, chemicals, preservatives, antibiotics, or hormones.
BUYING GOURMET SAUSAGE DIRECTLY FROM PAPA WEAVER'S PORK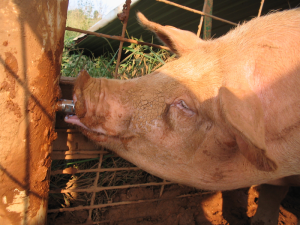 Sausage lovers can purchase a variety of gourmet sausage products directly from Papa Weaver's Pork from their website. The following products can be ordered directly through the Papa Weaver's Pork Order Page.
Chorizo
Ground Roll Sausage
Large Sausage Links (Hot Italian, Mild Italian or Sage)
Garlic Bratwurst Links
Breakfast Links
BUYING WHOLE HOGS DIRECTLY FROM PAPA WEAVER'S PORK
Customers who want to purchase whole hogs for BBQ or other purposes can purchase whole animals directly from Papa Weaver's Pork, and they will send the animals to T&E Meats for slaughter and processing. Just contact Papa Weaver's Pork by email at [email protected] or by phone at  (540) 672-1552 to place an order.
RETAIL OUTLETS AND FARMER'S MARKETS
You'll find Papa Weaver's Pork products in retail outlets and Farmers Markets around the state. Visit one of these outlets to purchase their gourmet pork products.
Locust Grove, VA:Miller Farms
Barboursville, VA: Stonefire Kitchen
Machipongo, VA:Quail Cove Farms
Madison, VA: Madison Farmers Market
Richmond, VA:Good Foods Grocery
Ruther Glen, VA:  Olympus Berry Farm
Spotsylvania, VA:Harvest Market
Stuarts Draft, VA:Stuarts Draft Farm Market
Unionville, VA: Marshall Farms
DISTRIBUTORS
Papa Weaver's Pork also sells their products through distributors, including these:
Capital Meat
Huntsman Specialty Game
Milton's Local Harvest          
FIND OUT MORE ABOUT PAPA WEAVER'S PORK