Announcing FHCASA's "Go Grass-fed" Campaign!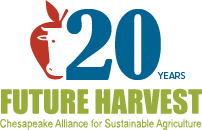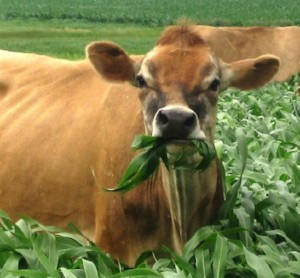 Future Harvest CASA and Partners Receive USDA-AMS Farmers Market Promotion Program Award to Launch "Go Grass-fed," a Campaign to Boost Demand for Local, 

Grass-fed Meat, Dairy, and Other 

Pasture-Based Products
Future Harvest, Chesapeake Alliance for Sustainable Agriculture (FHCASA)—in collaboration with Mountains-2-Bay Grazing Alliance, Central Farm Markets, Chesapeake Bay Foundation, Edible DC, Maryland and Virginia Extension, Maryland Farmers Market Association, and many grazers—has received a USDA Farmers Market Promotion Program 3-year award of $425,000 to conduct a robust multi-media campaign to boost consumer demand for local pasture-raised meats and other products in the Chesapeake Region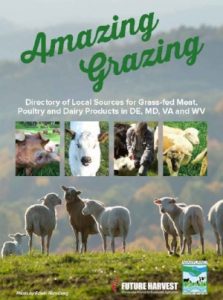 The project will breathe life into the Amazing Grazing directory of Chesapeake grass-fed producers by coupling a new, expanded edition with a suite of wide-reaching innovative multi-media activities, consumer outreach events, and producer-focused programs. The campaign is aimed primarily at increasing demand for locally produced grass-fed meat, dairy, and eggs via consumer outreach and education.
"The project partners and FHCASA are excited to work together on what we believe is a triple win for the grazers, consumers, and – via the proven soil health benefits of managed grazing – the environment of the Chesapeake region," says FHCASA Executive Director Dena Leibman.
A multi-faceted consumer education campaign will increase the number of consumers informed about how, where, and why it's important to buy local grass-fed products. In addition to updating the Amazing Grazing directory of producers, FHCASA and partners will pilot a Go Grass-fed Buying Club program, launch a wide-reaching multi-media campaign promoting grass-fed products, including holding tasting events at popular farmers markets and festivals and at the October Burgers-n-Brews event on Clagett Farm in Upper Marlboro, MD, this year held on October 21.
At the same time, FHCASA and the Mountains-2-Bay Grazing Alliance will collaborate on programming for producers, including direct-to-consumer (DTC) marketing training by the FHCASA Field Schools, a grazing mentorship program, six sessions devoted to grazing at the FHCASA annual conference, an annual Grazers' Summit, and much more!

This award was granted by the USDA Agricultural Marketing Service (USDA-AMS). The award number is AM180100XXXXG072.

https://temeats.com/wp-content/uploads/2015/05/logo1.png
0
0
Estland
https://temeats.com/wp-content/uploads/2015/05/logo1.png
Estland
2018-10-12 13:46:52
2018-10-12 13:47:21
Announcing FHCASA's "Go Grass-fed" Campaign!